JUNE 2021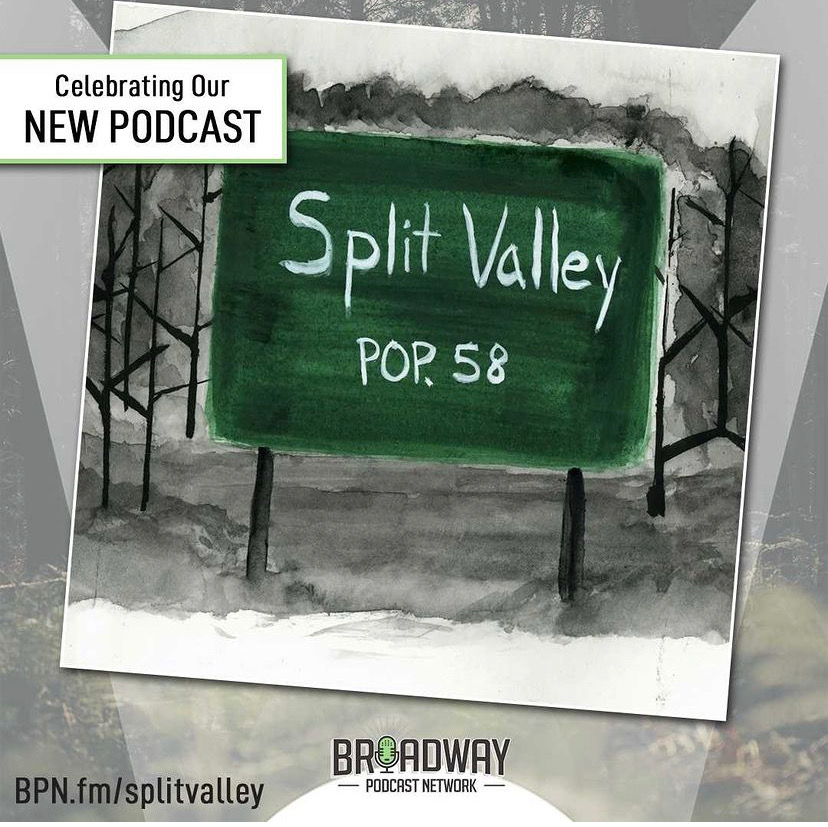 Exciting news! Split Valley has joined The Broadway Podcast Network. This is huge for our radio mystery. It will have much needed advocacy, distribution, and promotion. Long live Split Valley!
MAY 2021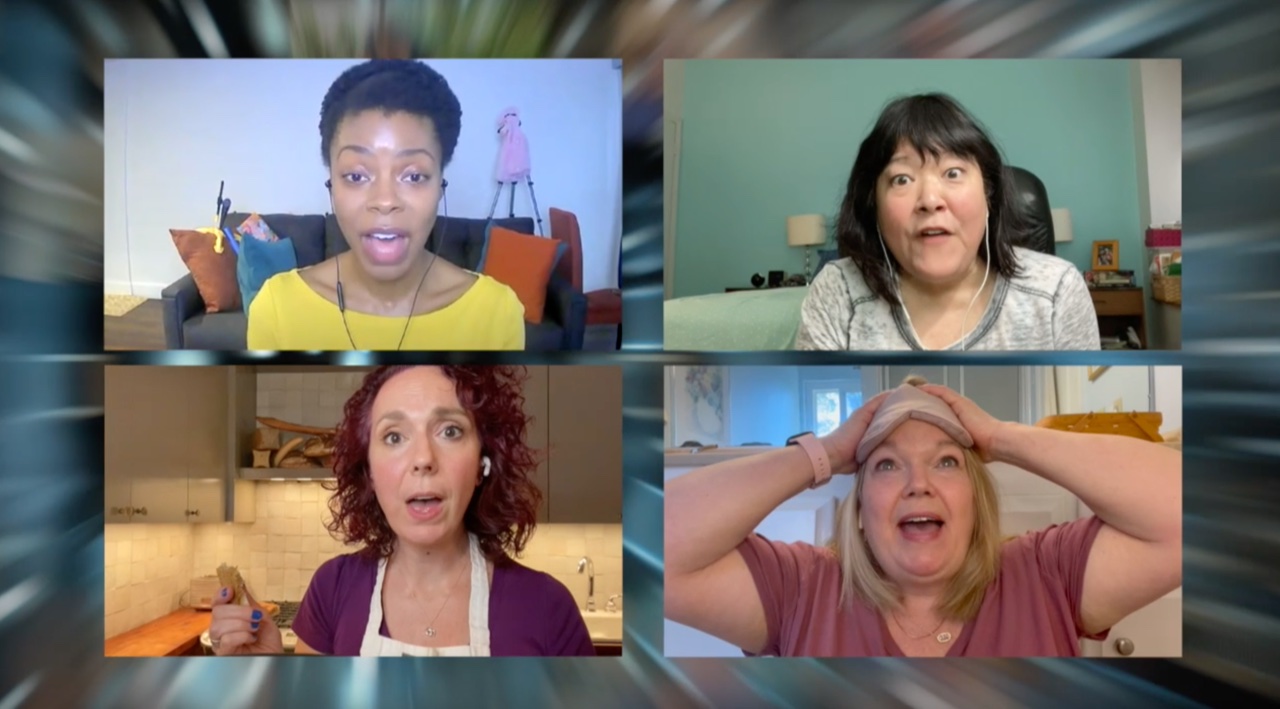 Together Apart raised $20,000 for The Actors' Fund last weekend! Here's a still from my contribution: "Care and Feeding."
Music by Carl Belfatti - Book and Lyrics by me - Directed by Vivienne Benesch - Starring Mia Ellis, Ann Harada, Kitty Belay, and me:)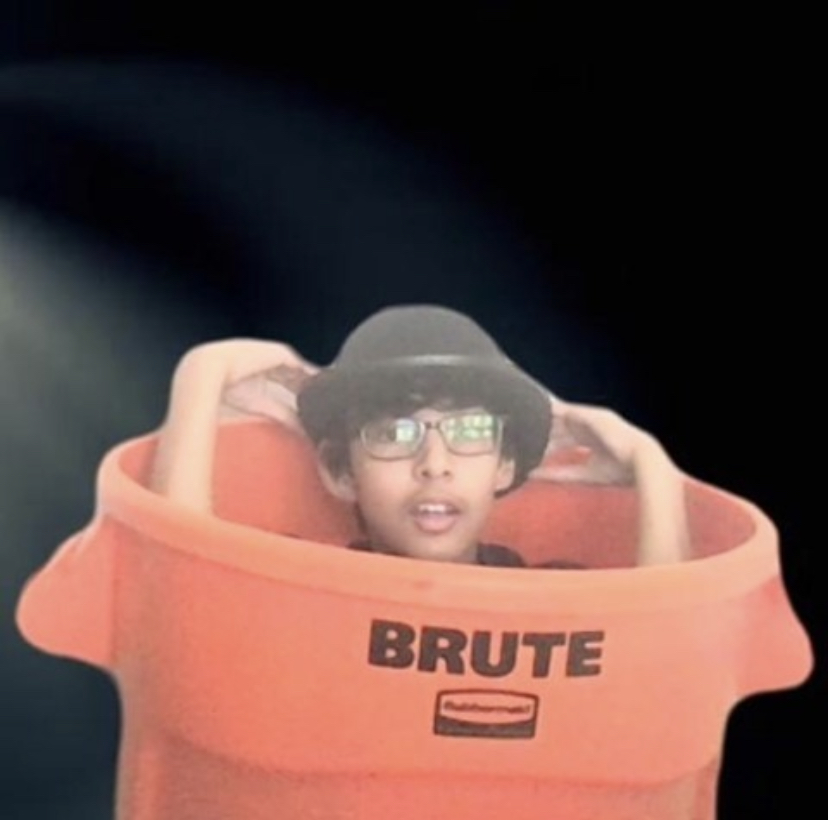 What is Brij doing?? He is performing the Samuel Beckett tribute in The Actor's Nightmare by Christopher Durang, LIVE on Zoom. I had so much fun directing these amazing kids. We came up with a new style of performance we coined "muppet acting" which requires LOTS of gestures and takes to the camera. They created theater magic in tiny Zoom squares and I'm just bursting with pride!
APRIL 2021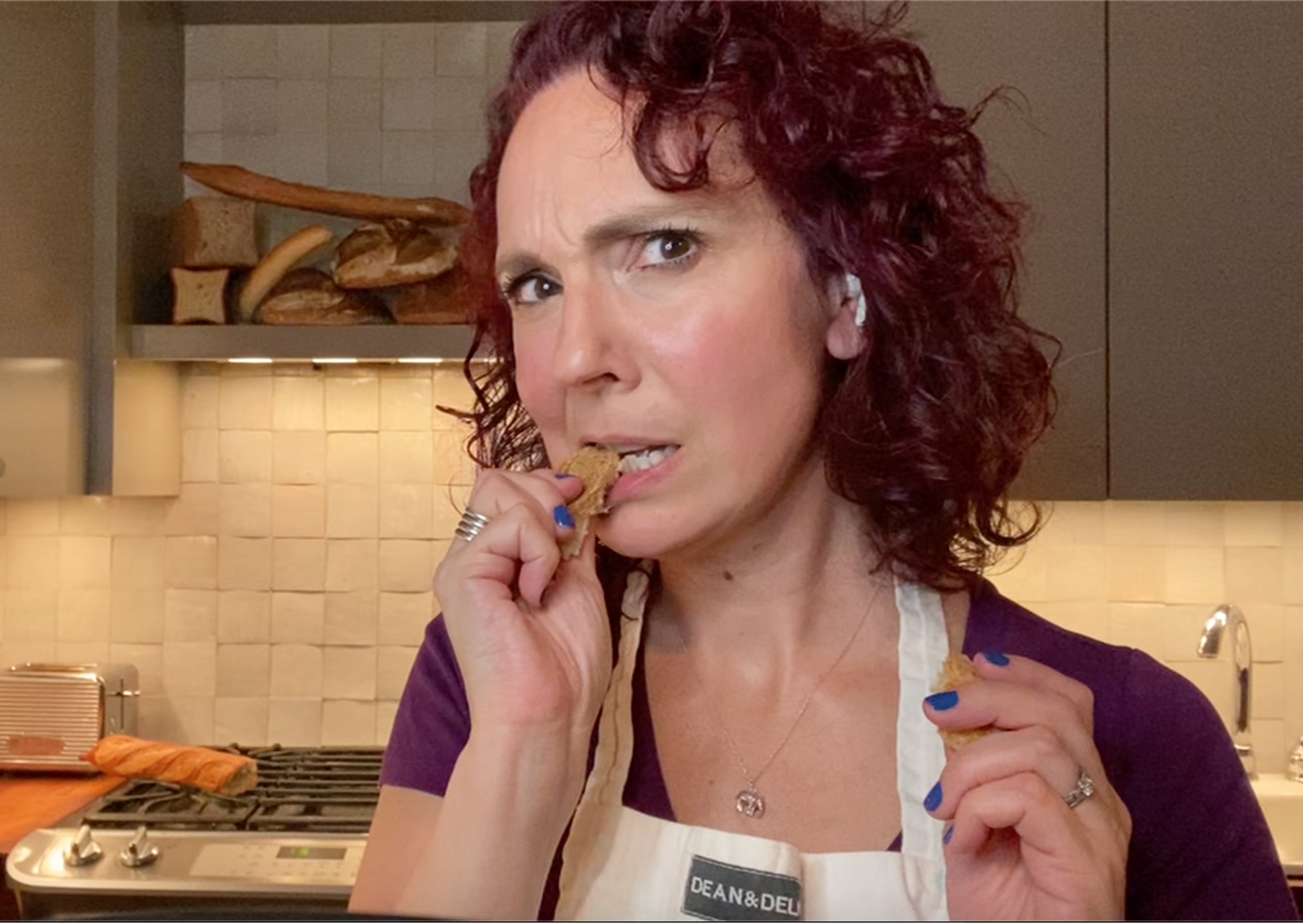 Here's a screenshot from "Care and Feeding", which I wrote for Together Apart, a collection of new short musicals written, composed, directed by, and featuring Brown University alumni. It premieres May 27th 8pm ET as a fundraiser for The Actors Fund. More soon!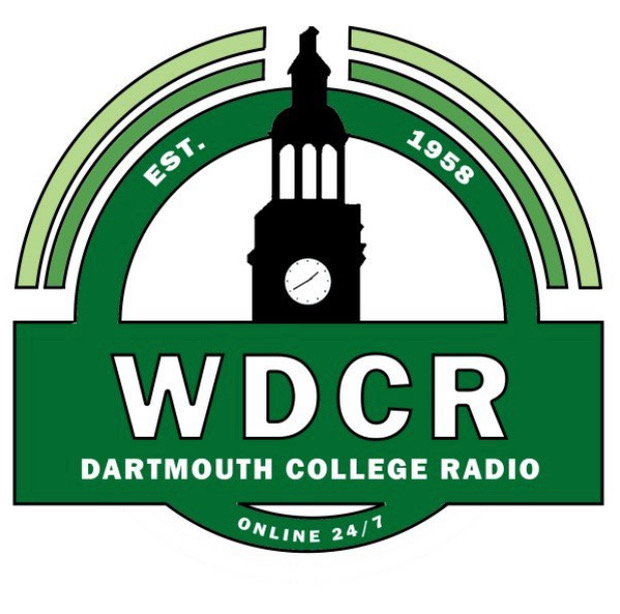 Split Valley's Radio Broadcast Premiere is April 8th at 8pm ET on WDCR! Pull up a chair, dim the lights, and TUNE IN.
MARCH 2021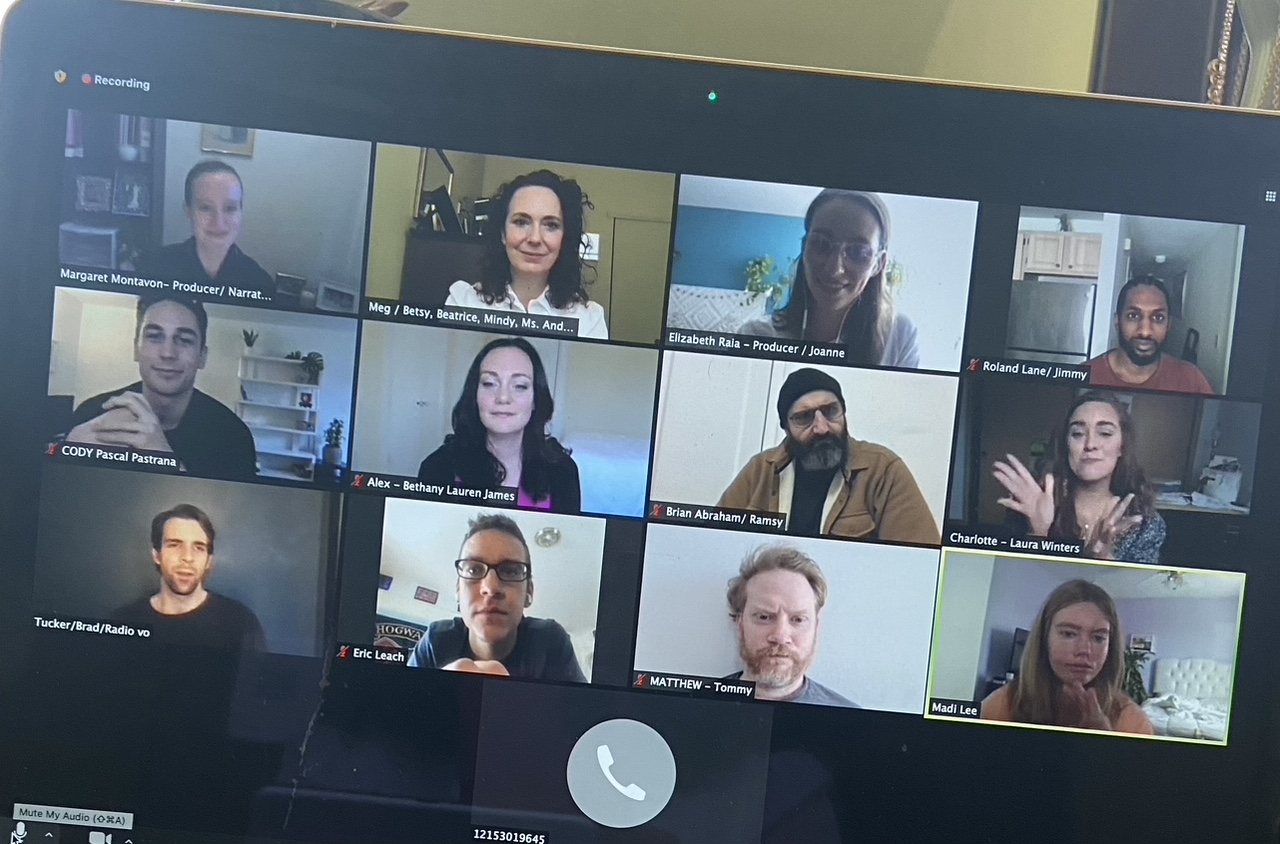 The super talented Bethany James and Laura Winters have written an amazing pilot: Offbeat. It's funny, moving, and highlights the talents of this incredible group of actors. I was delighted to voice a bunch of roles in the reading of their latest draft.
FEBRUARY 2021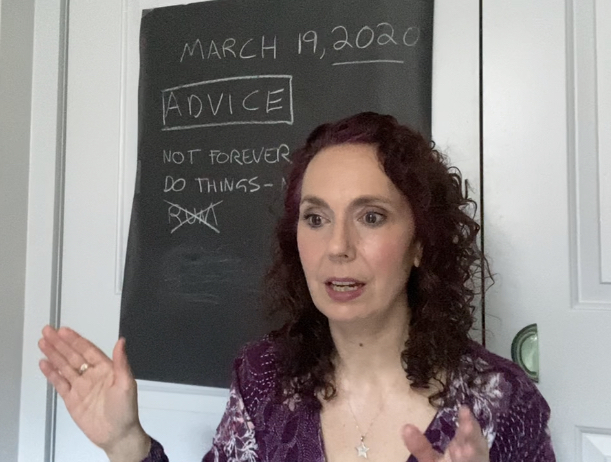 In quarantine I wrote a one woman show/cabaret currently titled Mess. This month I plucked up the courage to perform the first draft for a trusted few.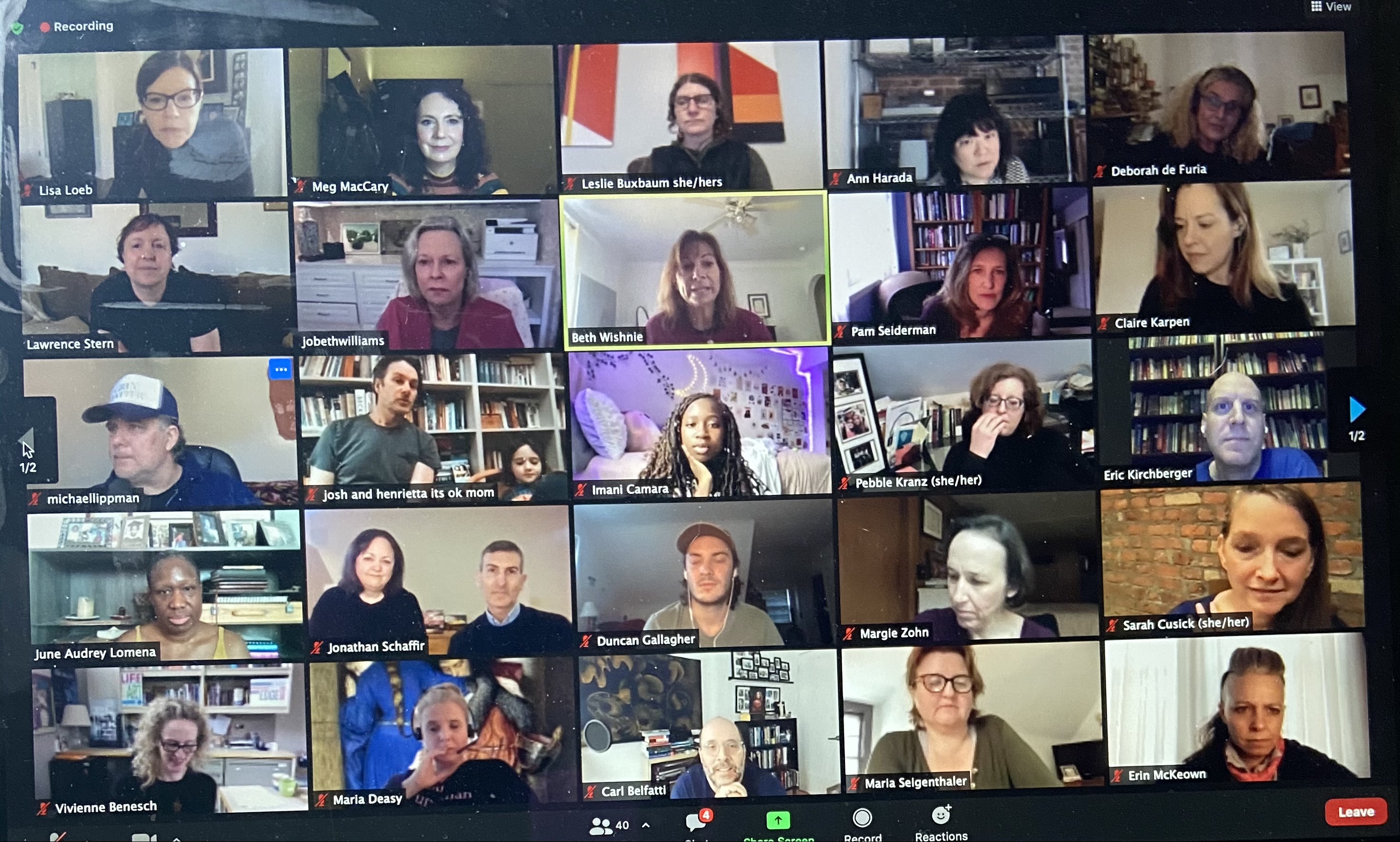 Here are just a few of the amazing people Lisa Loeb has gathered to write and perform the Brown Zoomusical!
My piece, "Care and Feeding", is being directed by Vivienne Benesch. More soon:)
JANUARY 2021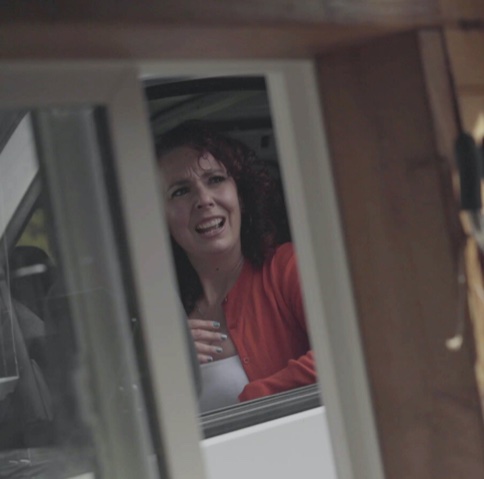 Here's the trailer for The Drive-Thru Therapist!
I play Stephani who has issues with her road rage:)
Can't wait to see it!
DECEMBER 2020
Split Valley: a radio mystery is live! It was conceived pre-Covid and produced in 17 separate home studios in the last few months. I am so proud of this work, as an actor and producer and artist making things happen under dire conditions. It is available on Apple Podcasts, Stitcher, Spotify, and our website www.splitvalley.com.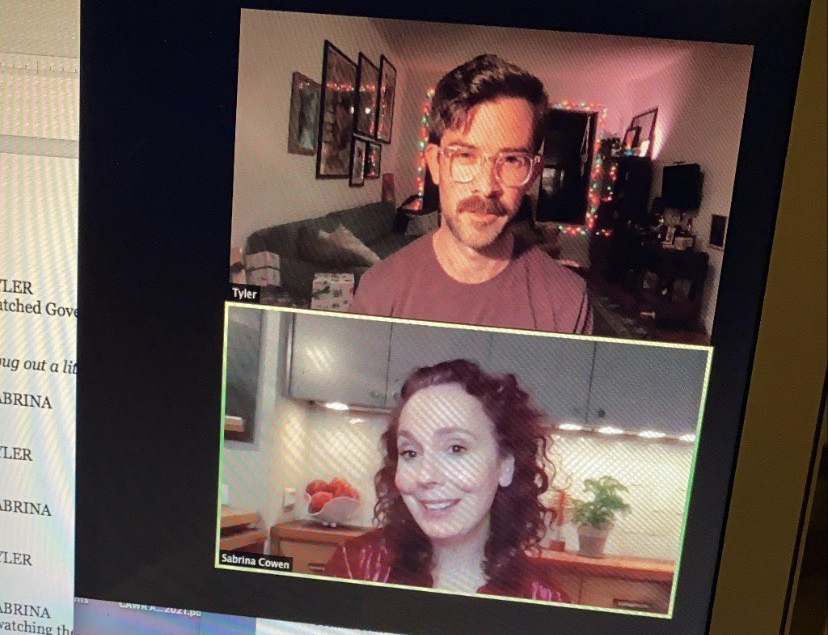 I got to act with Adam Patterson! Kate Mulley wrote a delightful scene for us called "Second Wife". Adam plays a producer for a show looking for a mate for Governor Cuomo. We had so much fun rehearsing with the fantastic Meredith McDonough. We performed it live on Zoom for the holiday show As the Fates Allow, produced by Jen Taher.
NOVEMBER 2020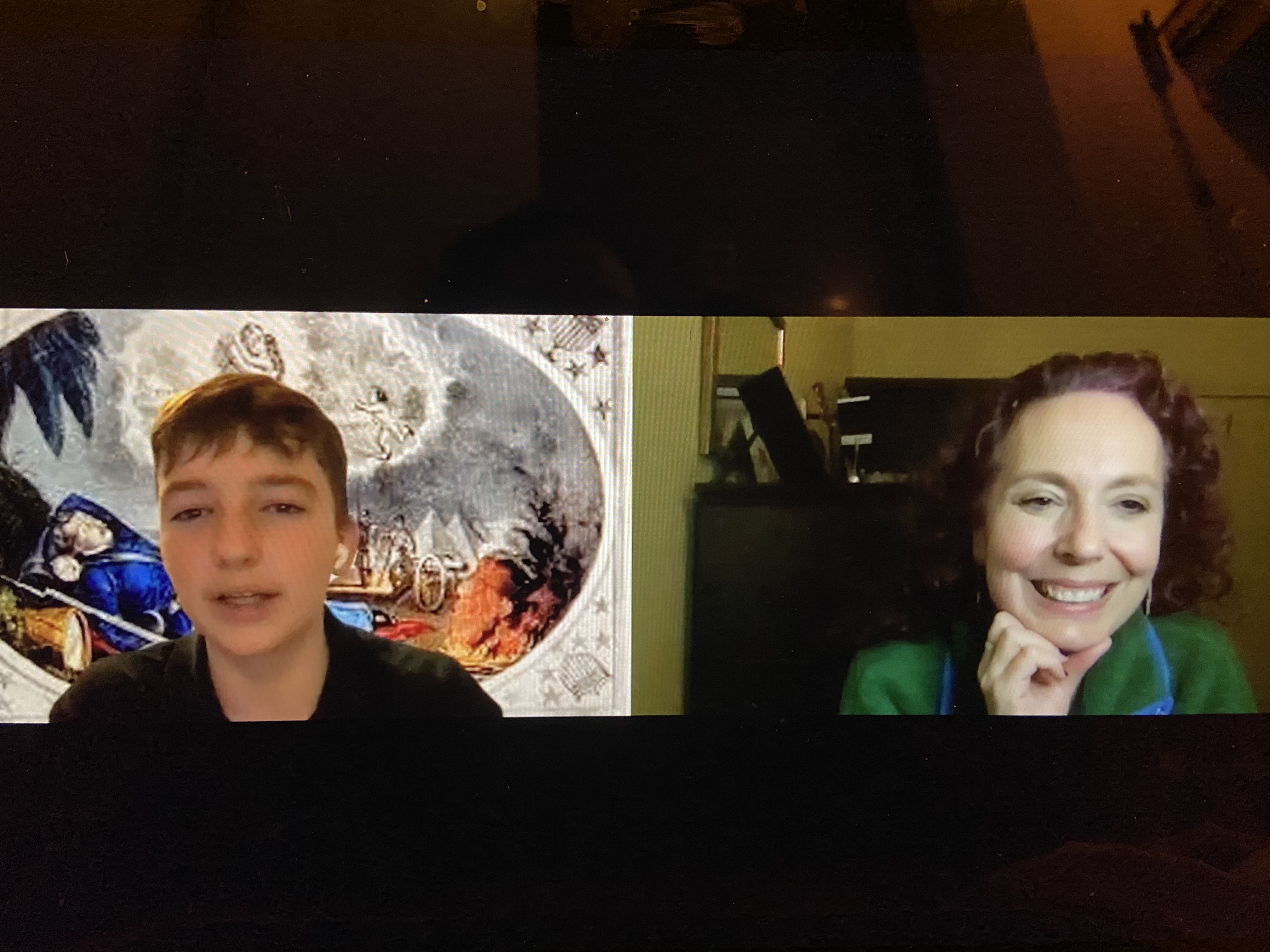 The 7th graders I teach delivered monologues by real people live over Zoom in a series we called In Their Own Words. This is Jackson performing Major Sullivan Ballou's last letter to his wife Sarah before he was killed in the Civil War.
OCTOBER 2020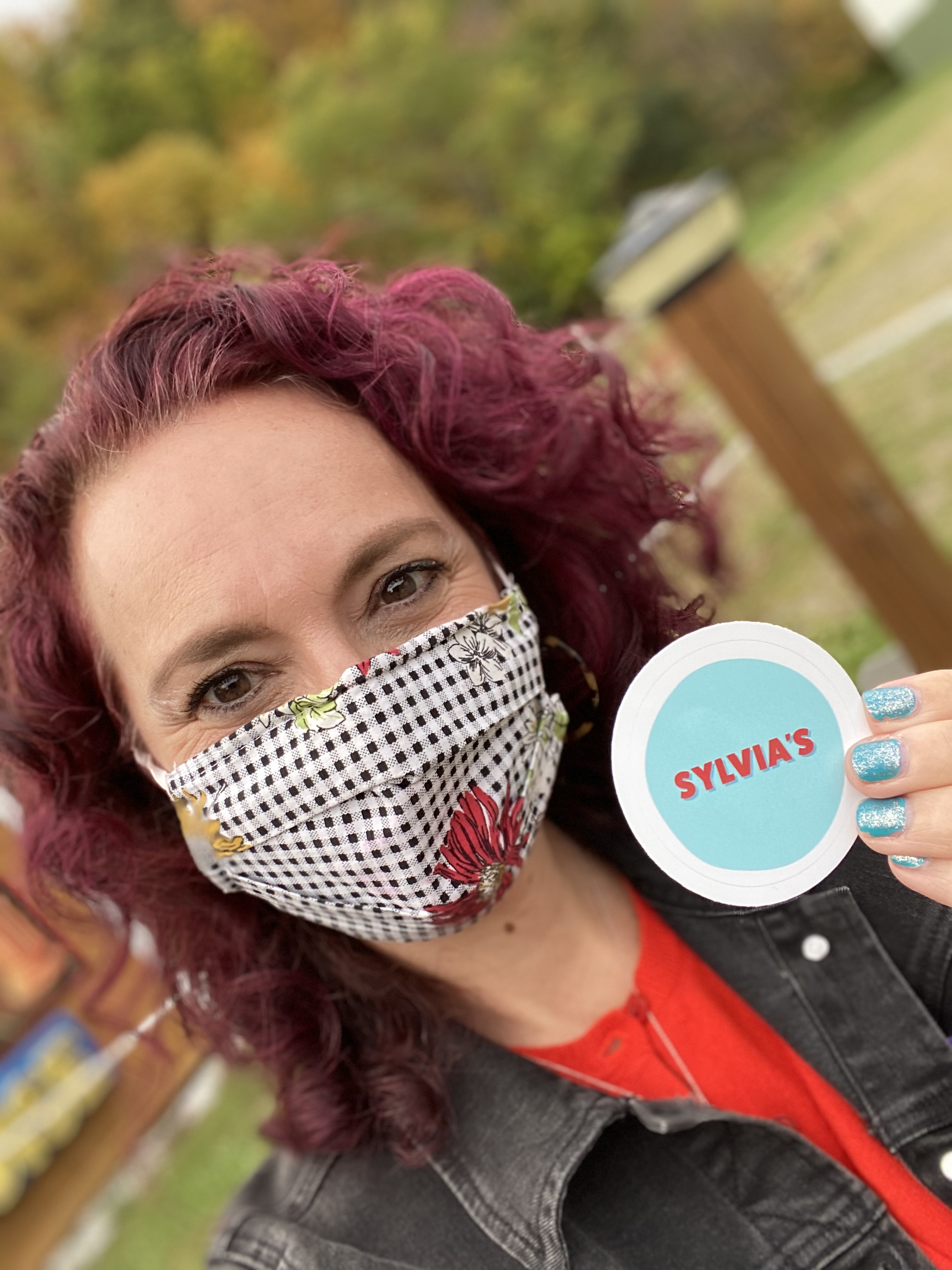 Spent a lovely day on set for The Drive-Thru Therapist web series. I play an Instagram influencer with rage issues:) Delightfully covid-safe, professional and fun cast and crew. And being back on set was wonderful!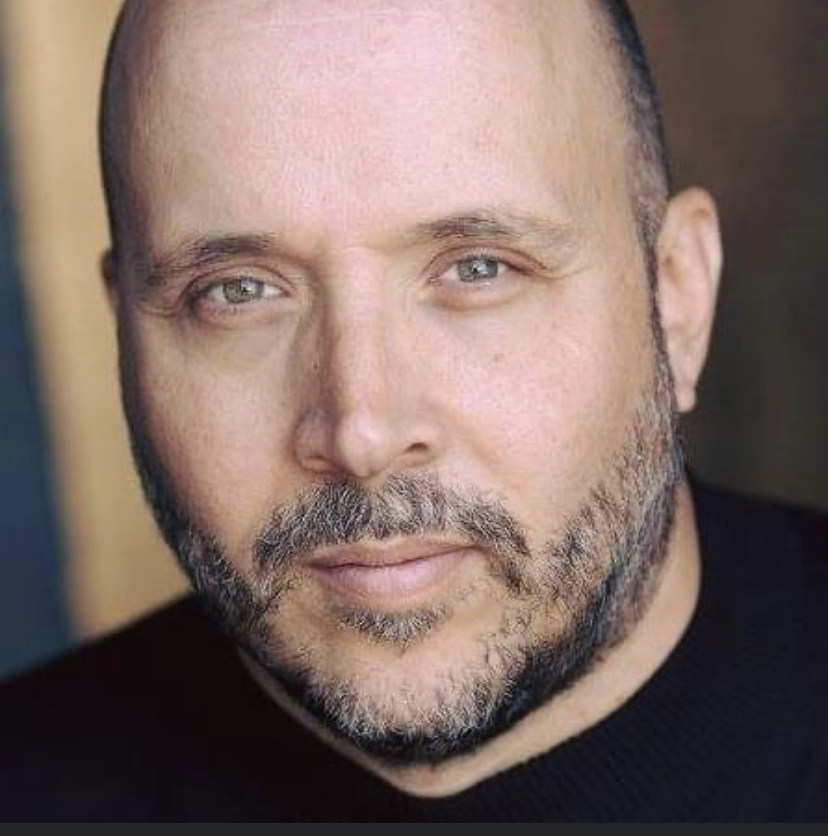 Carl Belfatti and I wrote a 7-minute musical for an upcoming project with a bunch of Brown grads! Working with this guy has been a pure delight:) More soon!
SEPTEMBER 2020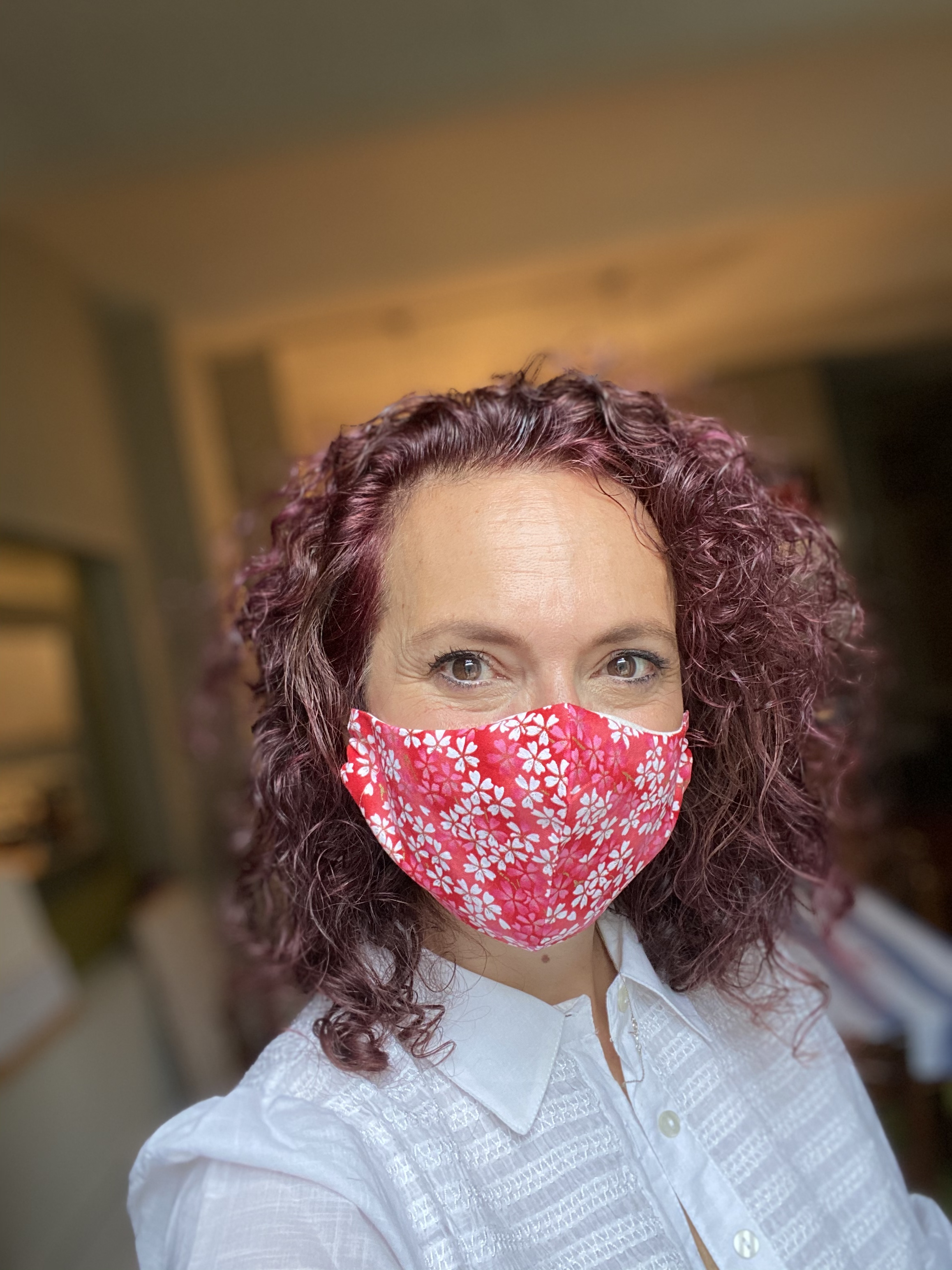 September is about planting seeds: lots of self tape auditions, Chris Campbell's fantastic acting class, working on my one-woman show (currently called Mise-en-Scène Seule or MESS) and of course, Split Valley is coming soon… Grow seeds, grow!
AUGUST 2020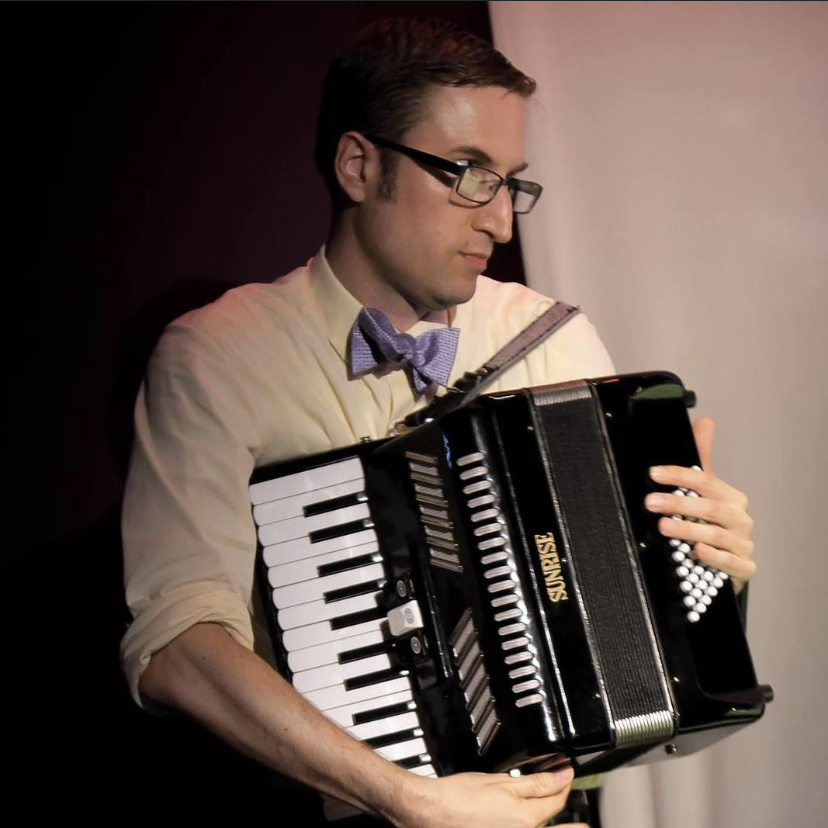 The last few months I've been building my one-woman show with the incomparable Michael Hicks... and we just finished working through the first draft😳 Lots more work to do, but I'm feeling pretty proud and extremely grateful😊
JULY 2020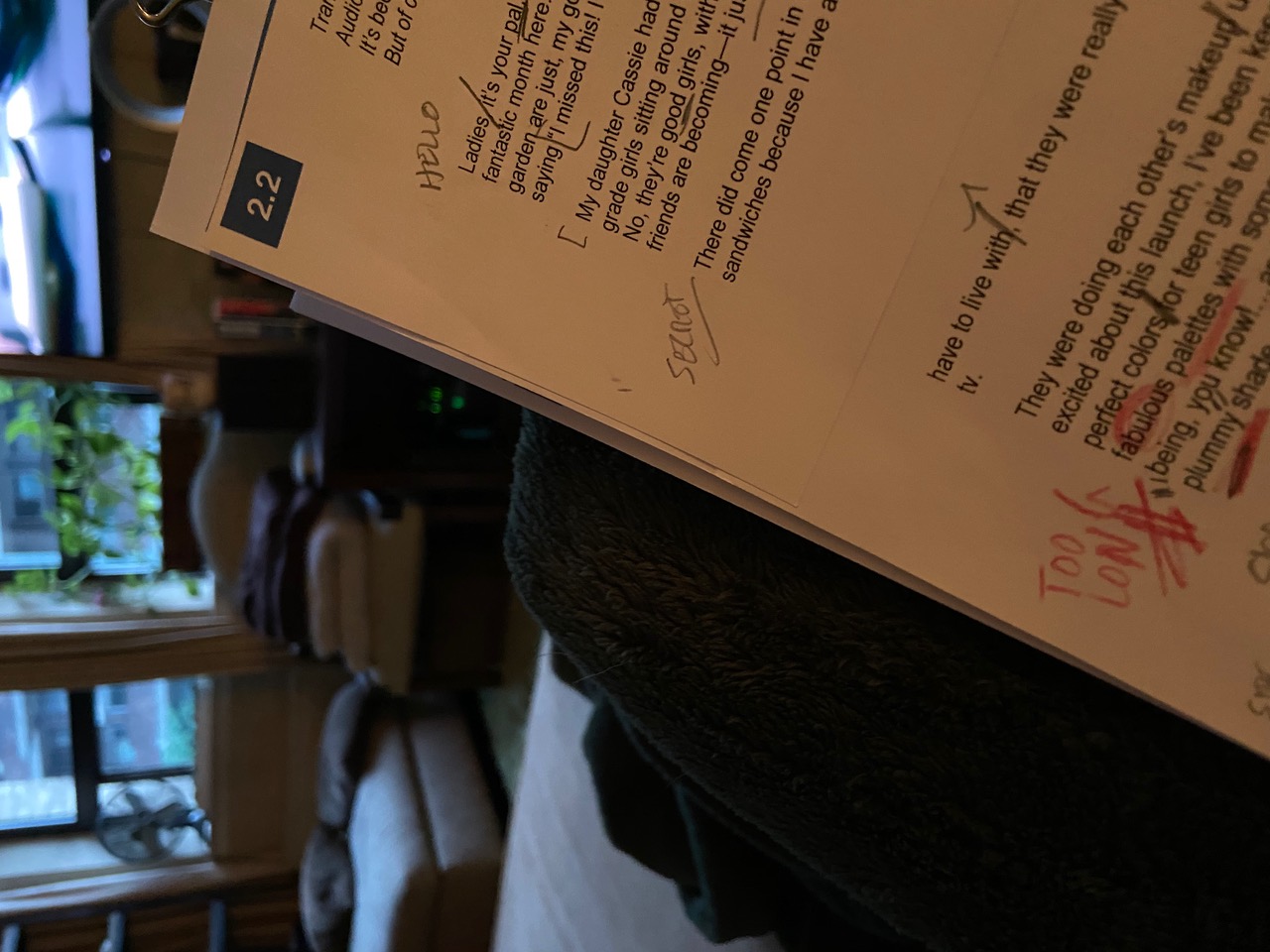 Split Valley is COMING SOON! This is a picture of me doing script work at 5am. We've recorded successfully (from 17 separate home studios!) and now it's time to edit.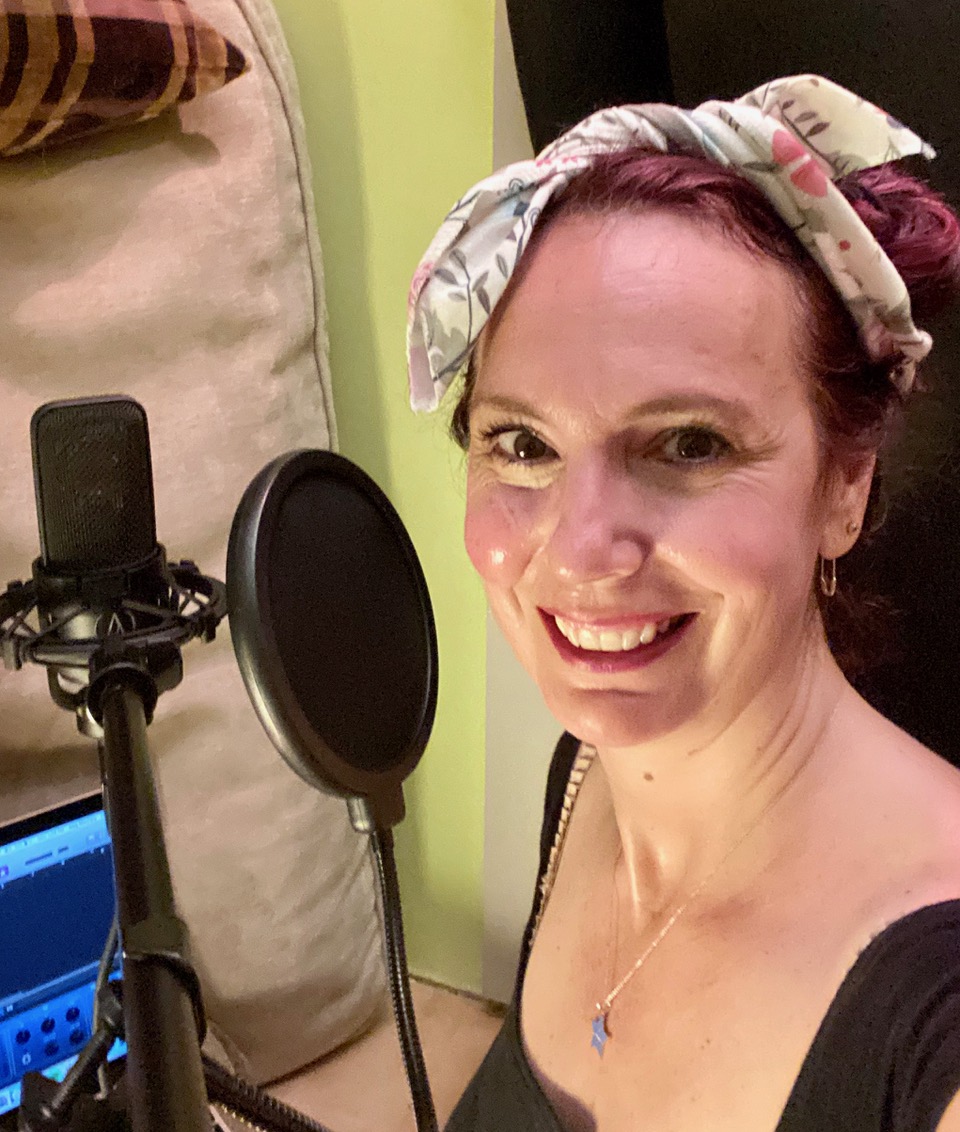 I put together a new commercial voice-over reel with all my new, fancy equipment!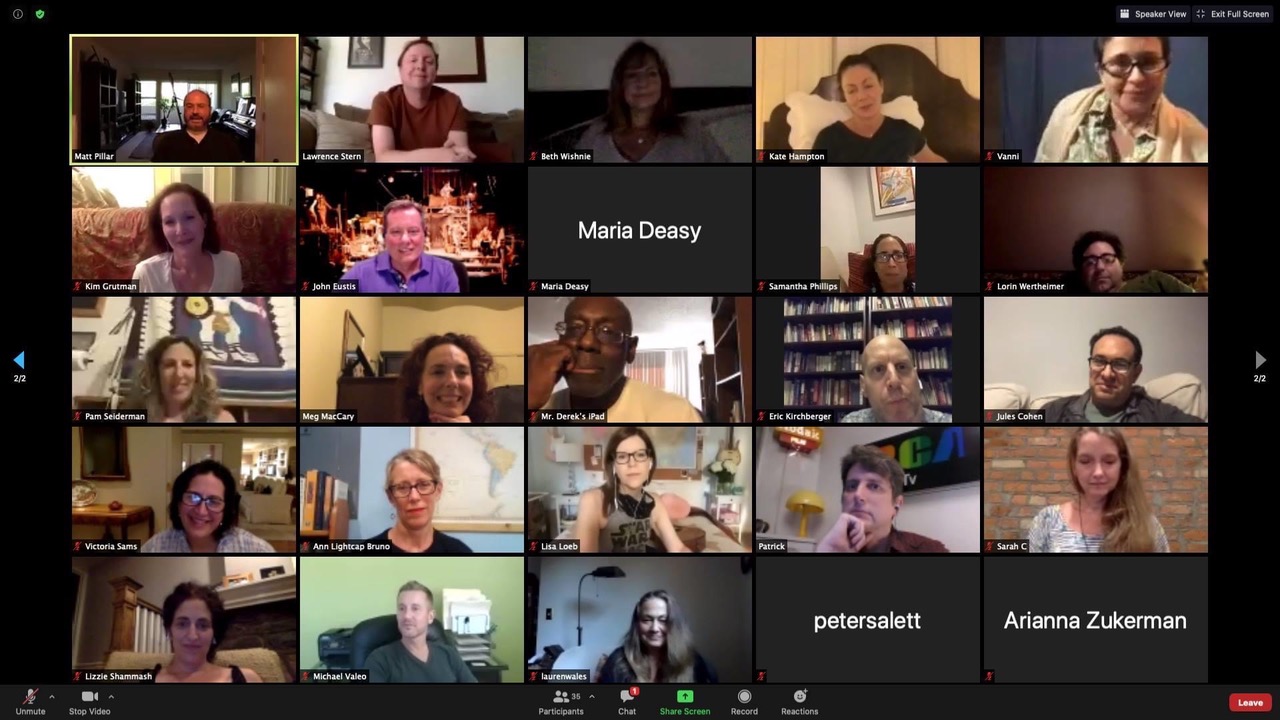 Brown alums who did musical theater from the late '80s to the early '90s had a massive Zoom reunion! This photo captures about a fifth of the people on the call. There's talk of collaborating on a new musical about the quarantine!
JUNE 2020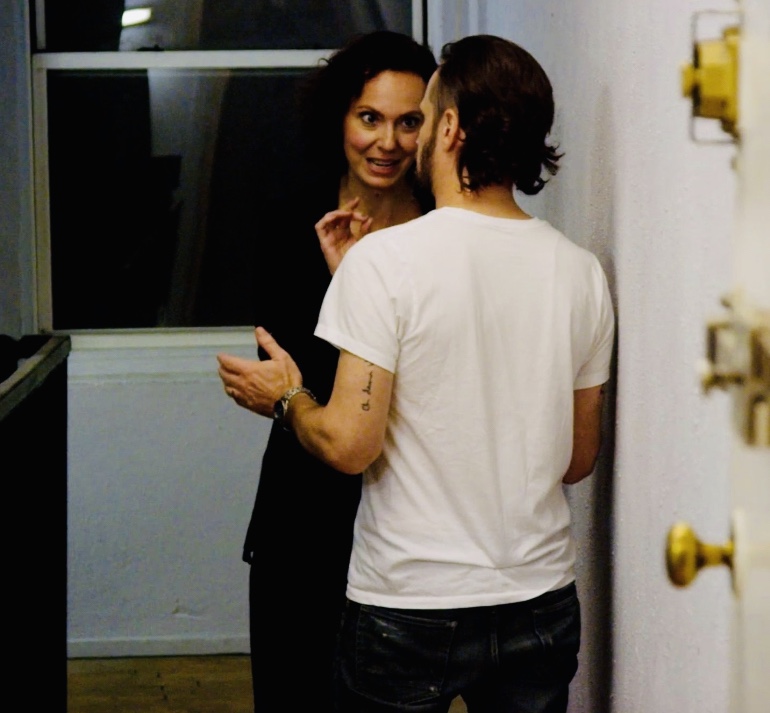 Loved giving David Andrew Stoler grief in Shrinkage - now streaming on Amazon!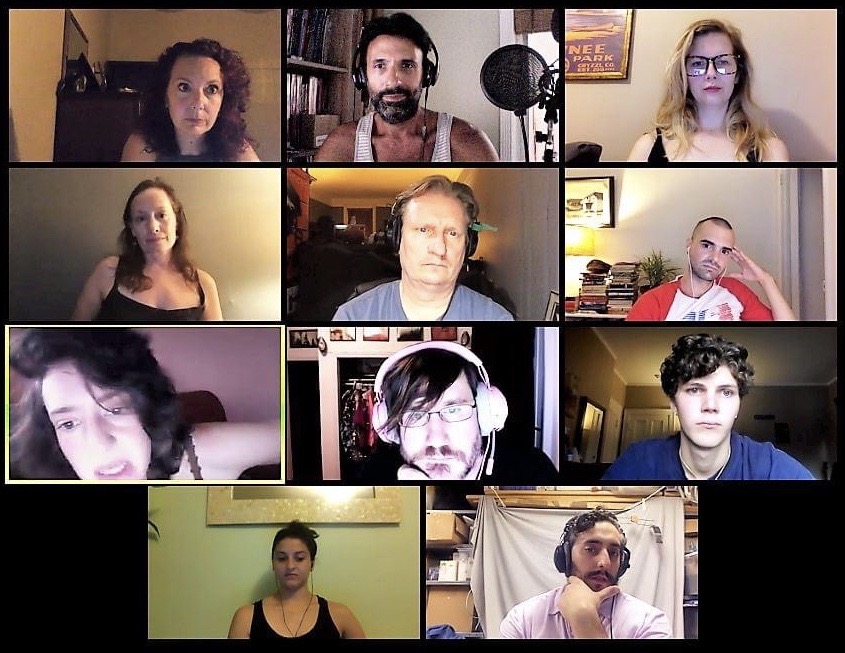 Split Valley: a serialized radio mystery is CAST! We read through via Zoom and start recording remotely July 6th:)
MAY 2020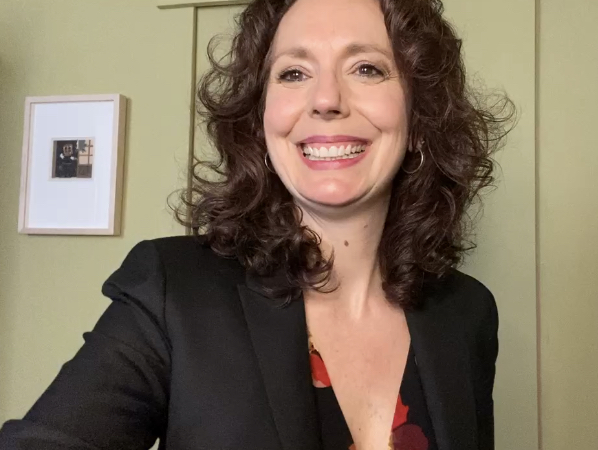 During quarantine I've been working on my self-tape skills. And wardrobe and hair and makeup and set design and camera and sound skills. Grateful for the opportunities! Eager to hand this all back to the professionals soon:)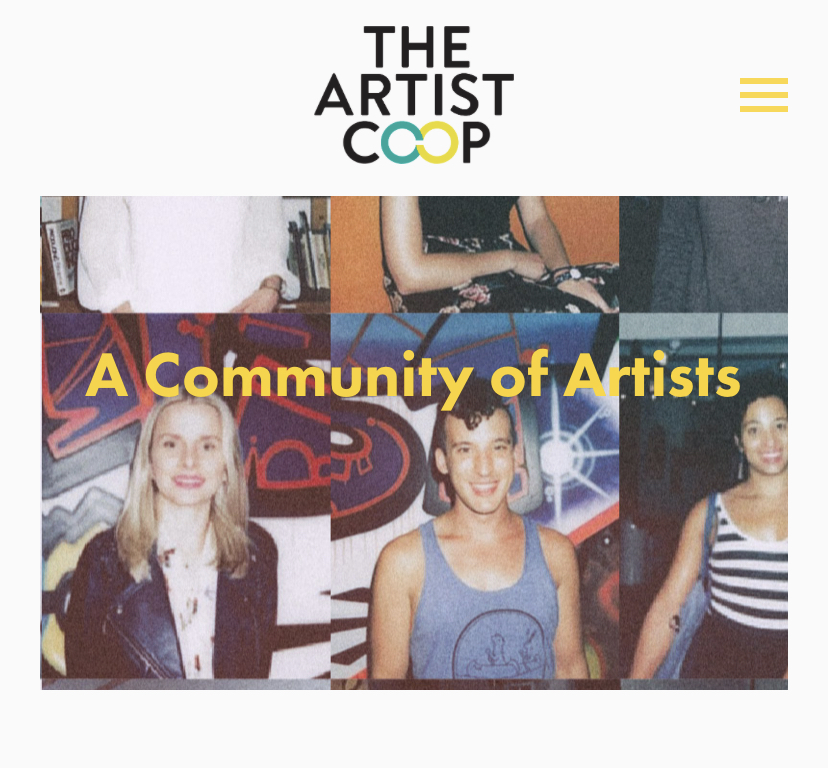 Everyone is getting great at Zoom Readings! This month I was in a reading of Lenore Marks' new pilot The Downfall and was delighted to reprise my role as MOM in a Zoom reading of Janelle Lawrence's musical 'Tis the Season, hosted by the Artists' Coop.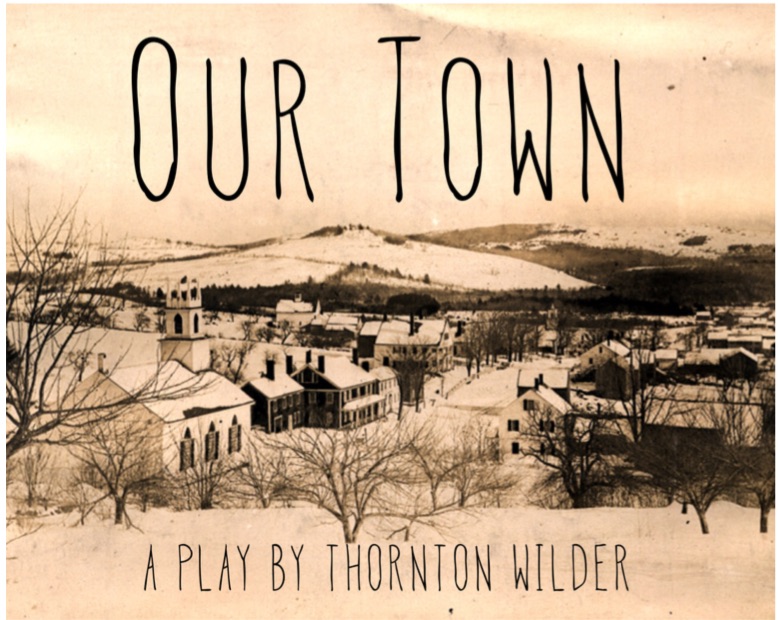 Every spring I direct seventh graders in a play. This year the school assumed we'd need to cancel it due to quarantine. But the show must go on! And we turned Our Town into a radio play with slides of old photos from turn-of-the-century New Hampshire. It was a huge undertaking and a beautiful result, underscoring the resilience and ingenuity of this wonderful community.
APRIL 2020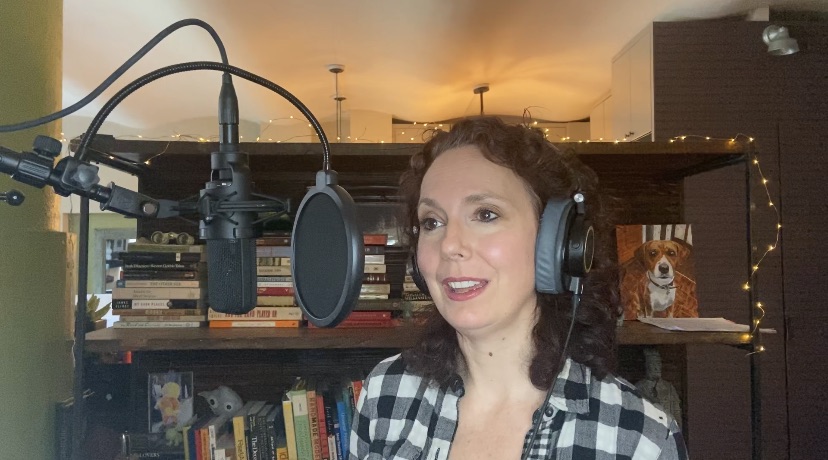 I recorded a couple songs for friends and family… gradually getting used to my "at home" set up:)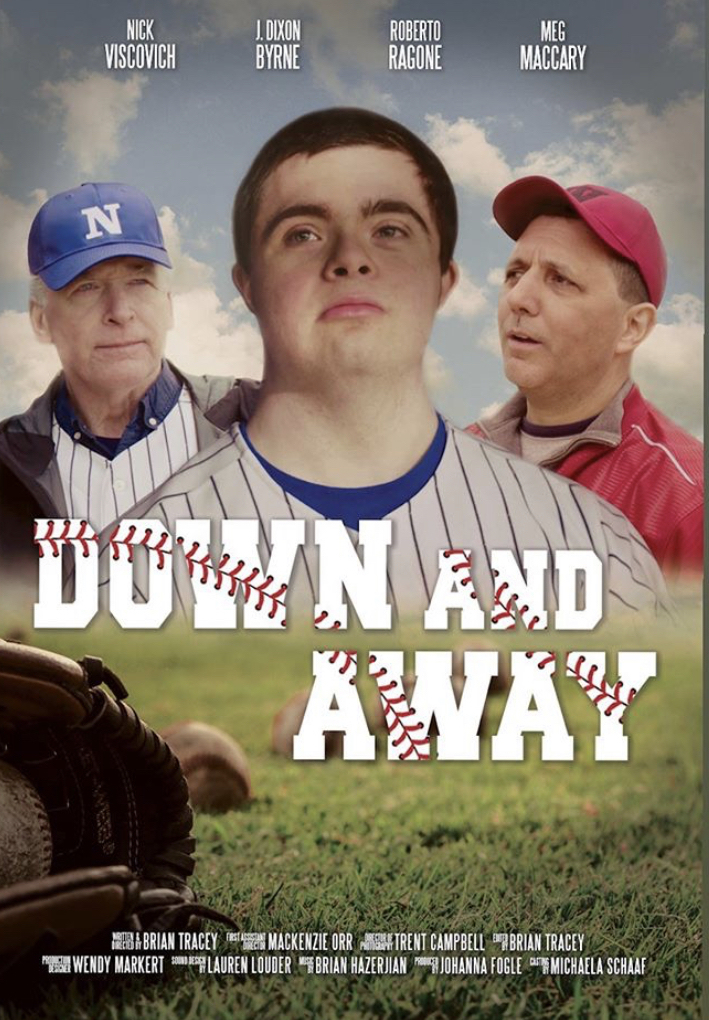 This lovely short film I shot last year is getting into a bunch of festivals!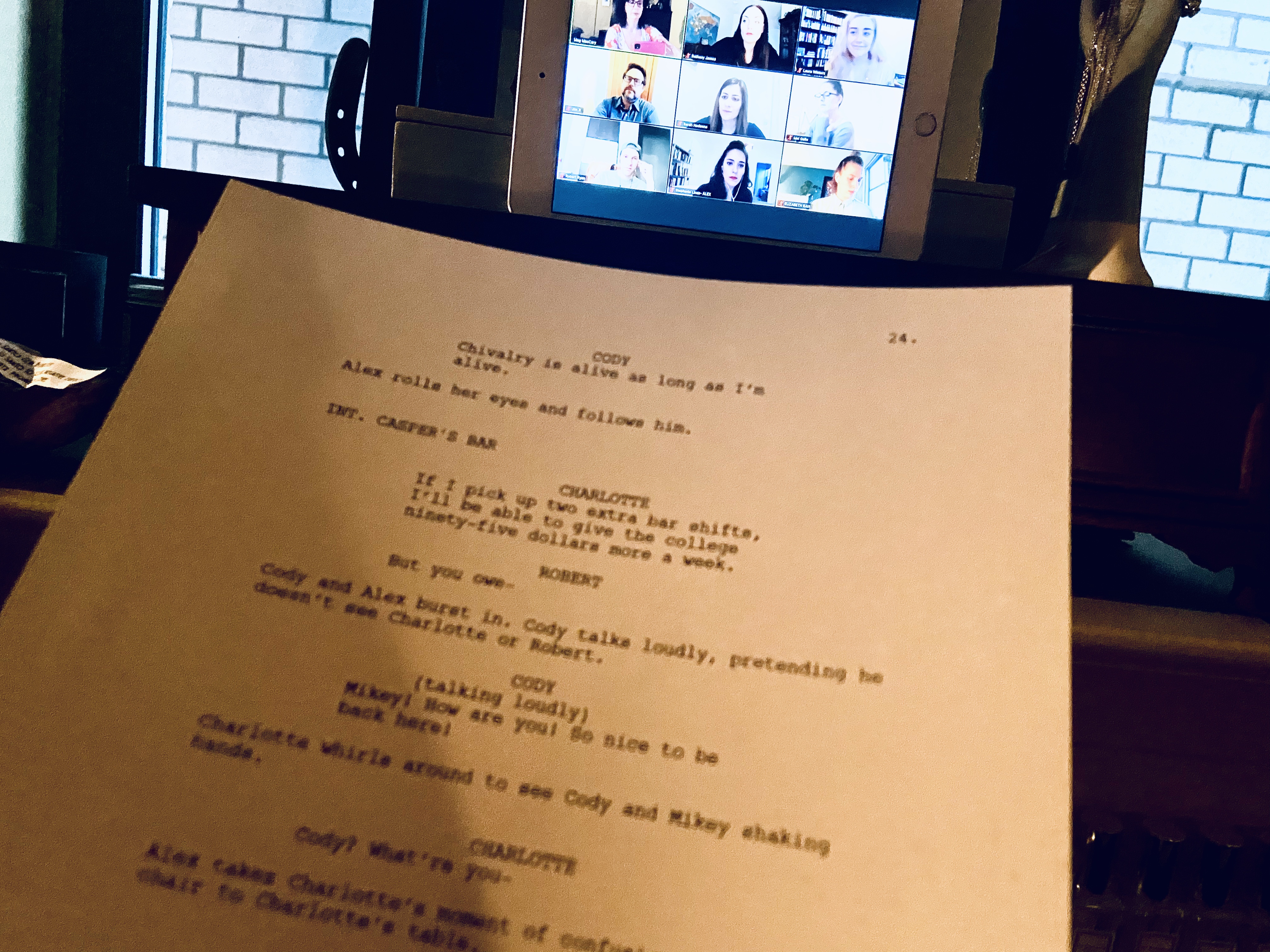 Fortunately quarantine hasn't deterred Bethany Lauren James and Laura Winters! I was delighted to perform in zoom readings of their TV pilots.
MARCH 2020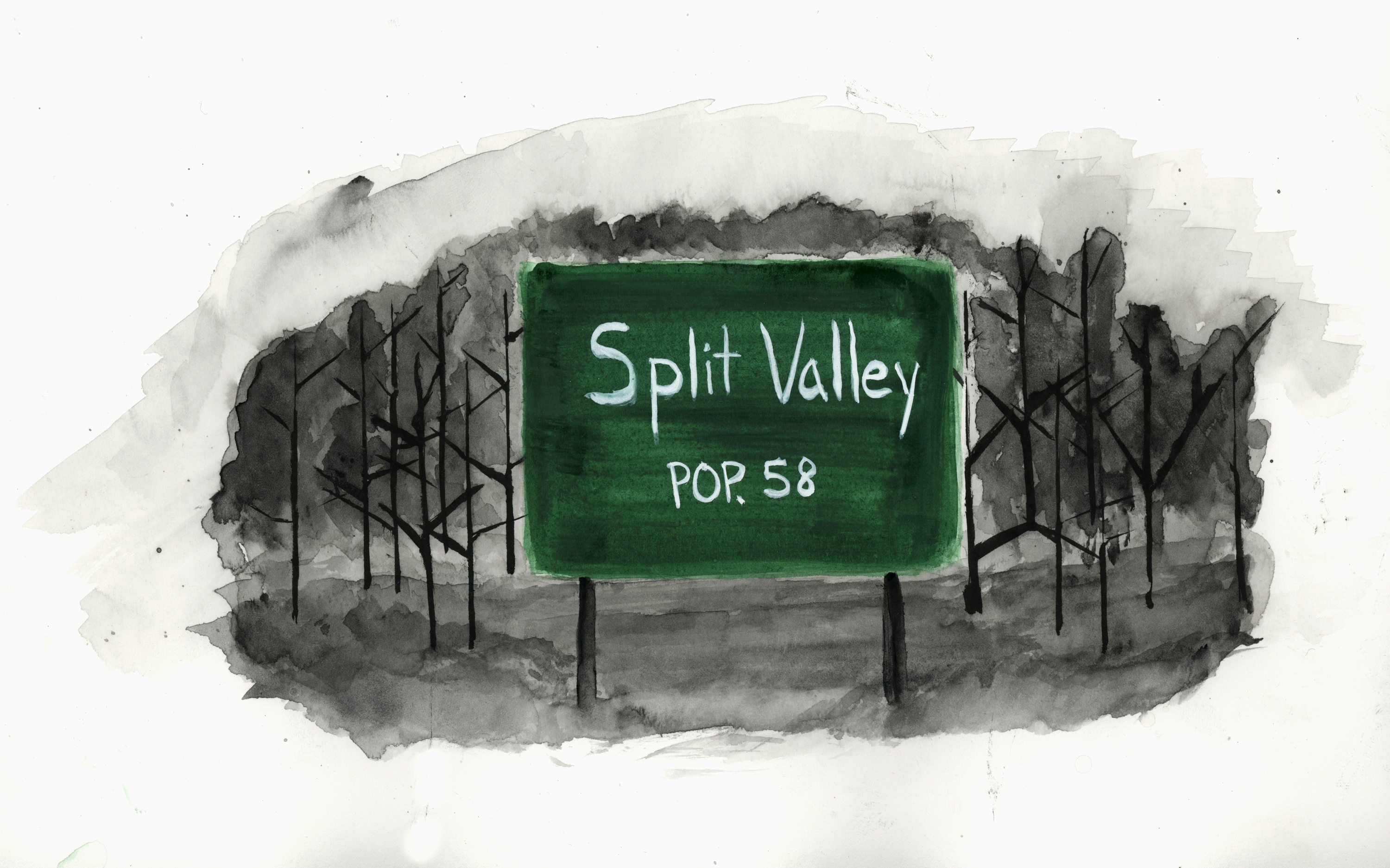 March hit us all like a ton of bricks. I'm so grateful to have projects I can continue to work on. Five on a Match is producing Split Valley: an original, serialized radio mystery.
A cryptic postcard lures two investigative podcast journalists to the smallest town in New York State.
Listen to how the story unfolds in nine audio episodes.
Split Valley is written by Caroline V. McGraw and directed by Eddie Prunoske. We will be hiring 14 New York City artists to record in June!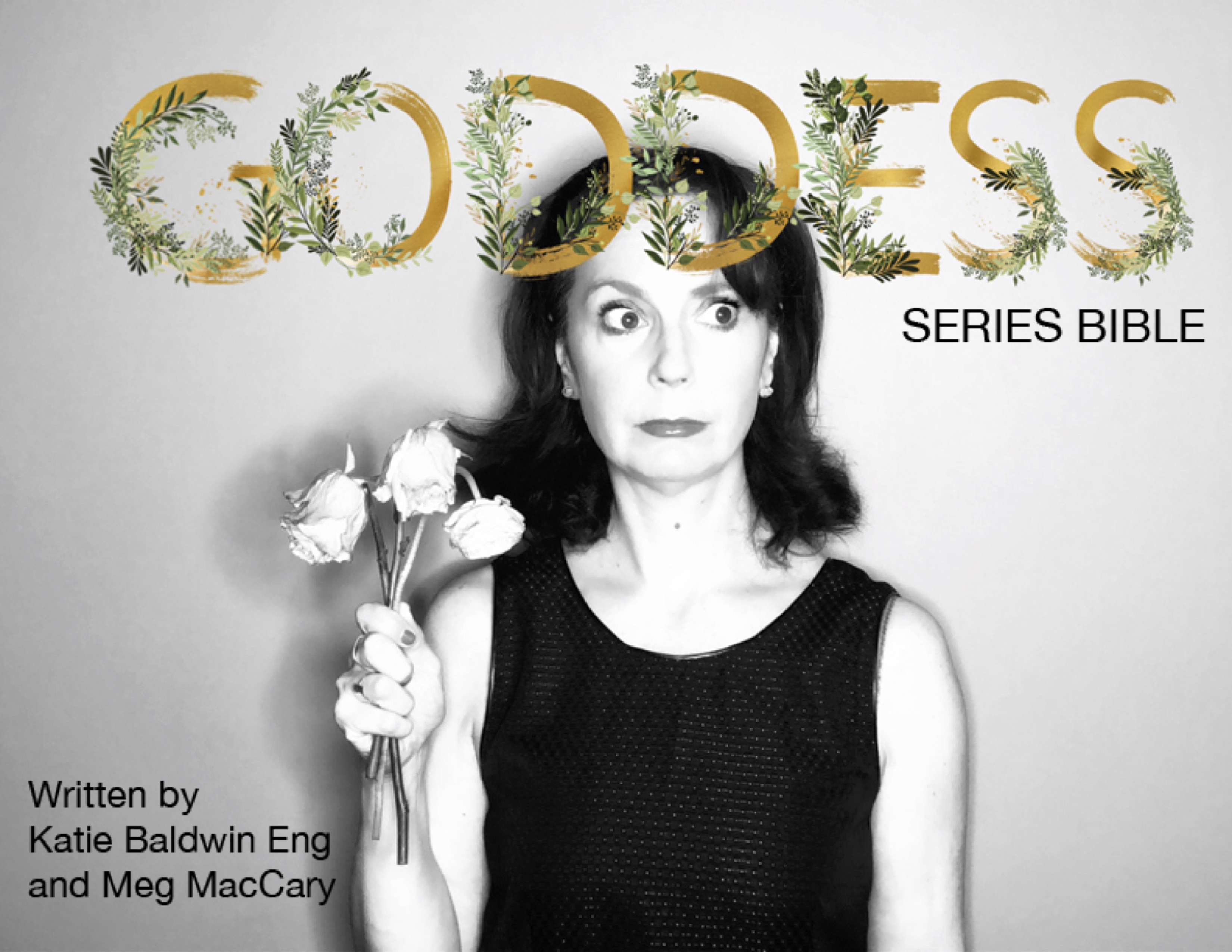 I finished the show bible of my TV pilot Goddess! Complete with a season one outline and beautiful renderings by Matt Cohn. Check it out here.
FEBRUARY 2020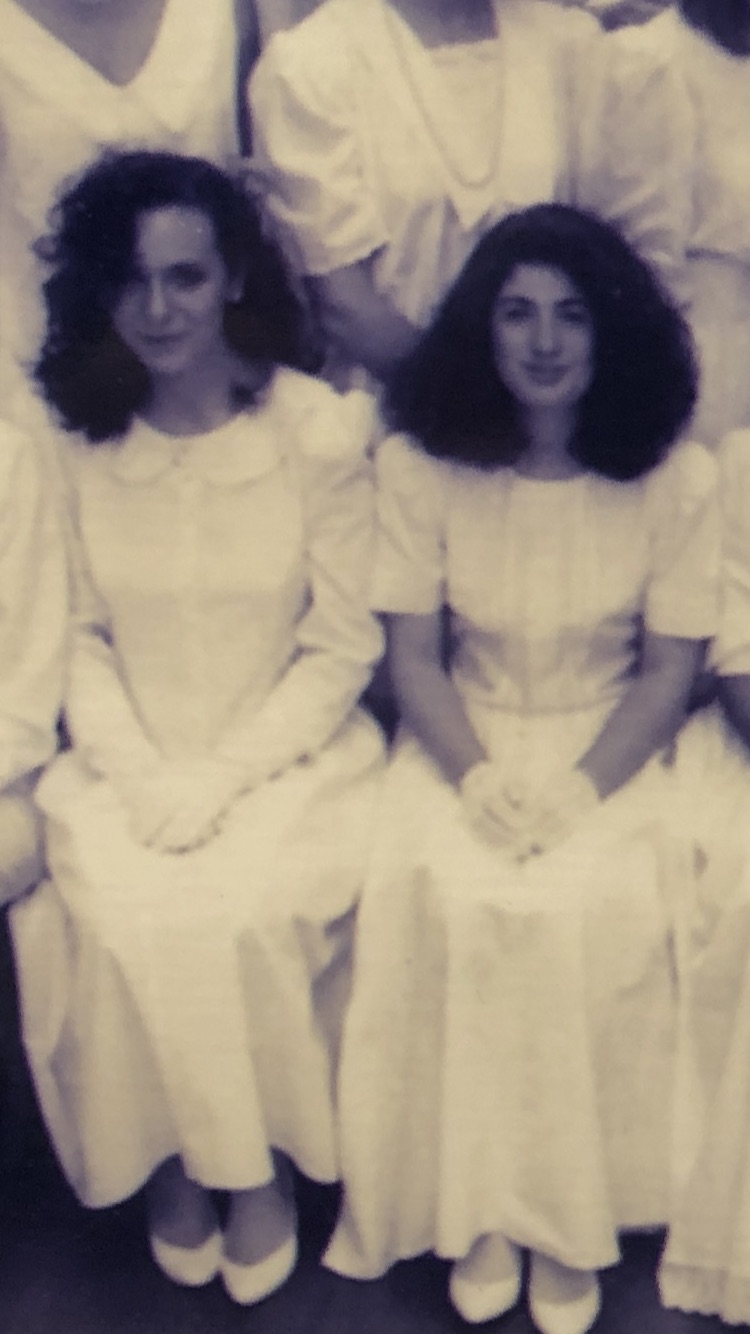 Jessica Dorfman Jones and I wrote Relevant, a TV Pilot about two friends who went to high school together. Wonder what our inspiration was…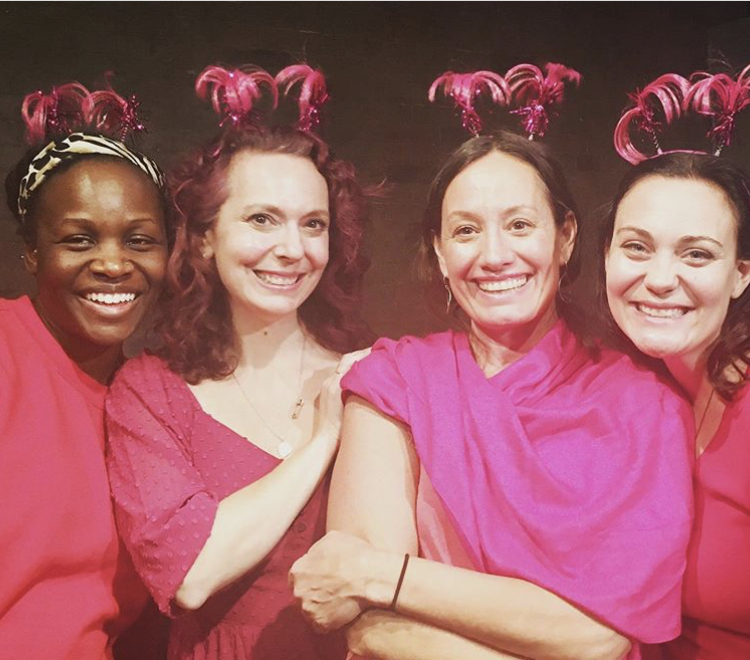 Had a wonderful time workshopping The Bedbug Problem by Devin Dearing Preston at the Barrow Group with these lovely bedbugs: Lunie Jules, Chris Campbell, and Bethany James.
JANUARY 2020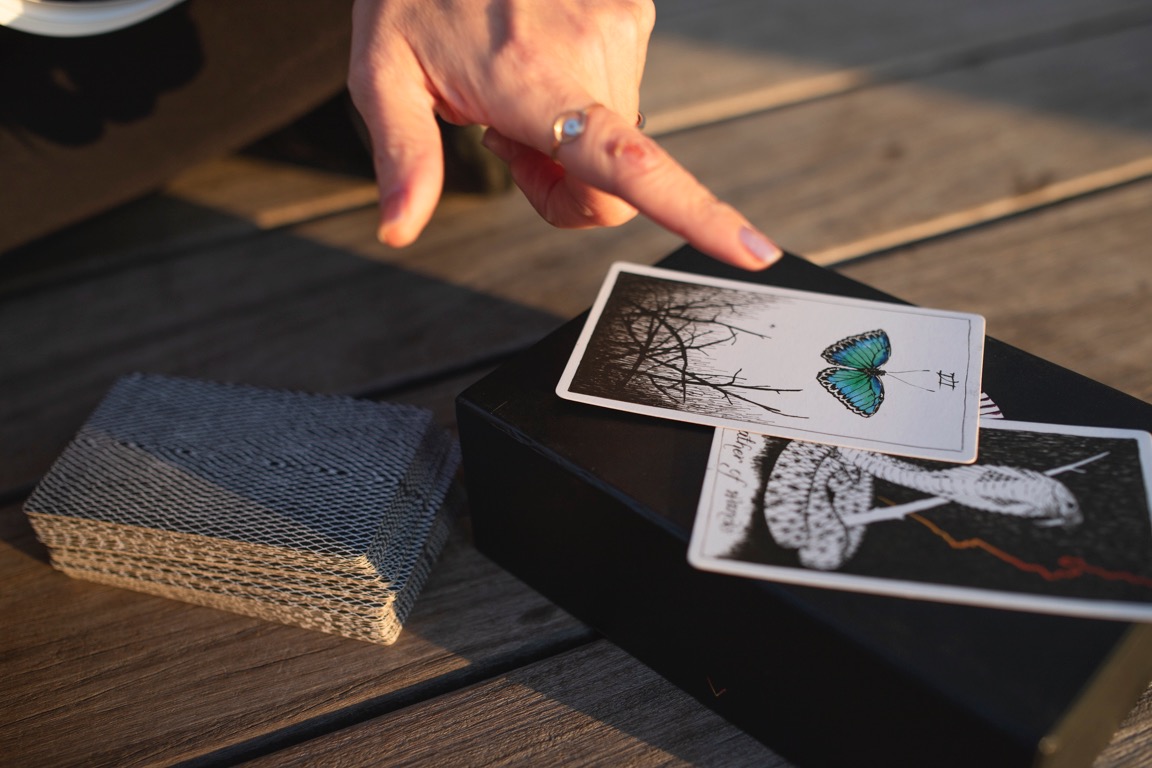 2020 is sponsored by the Six of Wands! What will I do with my newfound wings??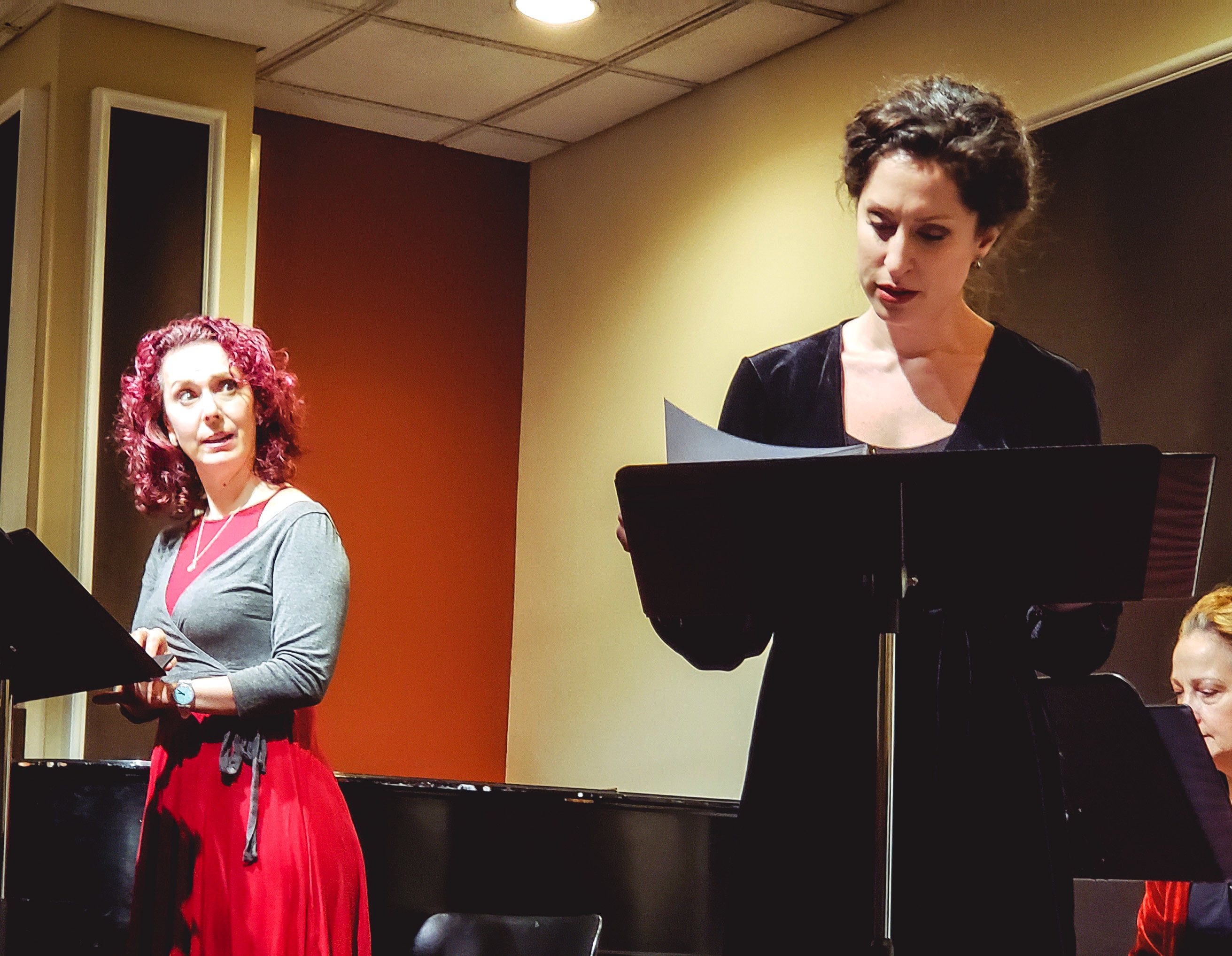 Delighted to take a crack at a Danish accent in Barrie Kreinik's new play In Love with Night, about the life and times of Eva Le Gallienne, produced by The Bechdel Project at The Dramatists Guild.